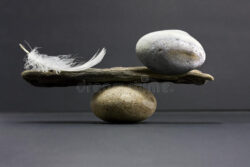 Creating Balance
In life we all have to mindful to maintain the proper amount of balance.  Balance is important in our physical lives, our social lives and our family life.  As a physical therapist, I am usually talking about the balance needed in our physical lives.  Balance between opposing muscle groups, balance in your ankle knee and hip (which keeps you from falling) and balance in structures (alignment).  However in this issue, I want to talk more about balance in the family/personal life.
Monday through Friday most of us are on a strict schedule, running to pick and drop off kids, running to the store for items to cook later, running (rushing to work) to be there on time, running home to make dinner, running to cook, running to eat, running to prepare for the next day.  Some either work on the weekends, or at least have a ton of other duties that are scheduled that we continue to run to.  I know, because every day I find myself in this same maze of running and doing and preparing, rarely feeling like I am stopping.  And by Sunday feeling more exhausted as I again go into yet another week on being unbalanced. 
Why unbalanced?  Well the term balance means A. an equal distribution of weight allowing someone to remain upright and B. a condition in which different elements are equal or in the correct proportions.
When we are running around "like a chicken with our head cut off" (as they used to say in Mississippi) then we become unbalanced.  Our lives are not in equal proportions and we rarely feel like we are upright.  We need to realize that if we do not find that proper balance.  Balance is very important for us to maintain a healthy lifestyle which includes decreased stress and increased activity.  We need to find a balance between work life/family life and taking care of ourselves.
Ways to take care of your self
Read a book
Take a long relaxing bath
Sit outside and listen to nature
Go for a walk
Exercises
Get a Massage
Pray and Meditate
Take a minute to just sit in the car before going into the house
Plus many more
Stop in for a Massage/Myofascial Release/Reiki session so we can help you Balance Your Life.
If you would like more topics like these please comment below and/or post suggested topics